Heat exchangers with fixed tube grids and temperature compensator
Are intended for heat exchange of liquid and gaseous media at a temperature from minus 20°C up to plus 400°C in the technological processes of the oil, chemical and gas industries.
The nominal pressure is 1.0 MPa (10 kgf/cm2); 1,6 МPа (16 kgf/cm2); 2,5 МPа (25 kgf/cm2).
Placement of holes for pipes in tube grids and partitions along the vertices of triangles.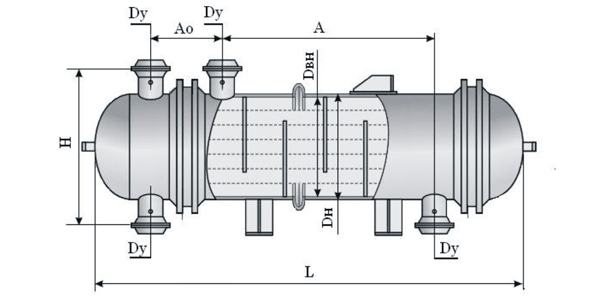 Technical characteristics of heat exchangers
Designation of the technical specification
Heat transfer surface area, m2
Heat-exchange tube assortment, mm
Length of heat exchange tubes L, mm
Number of strokes
Execution
Material
1. Heat exchangers with fixed tube grids and temperature compensator on a casing with a diameter 159, 273, 325 and 426 mm increased thermal efficiency
от 1
до 68
20 х 2
25 х 2
1000-
6000
1; 2
Horiz.
vertic.
Steel 10
Steel 20
Ст 3 сп
12Х18Н10Т
10Г2С
09Г2С
10Х17Н13М2
Т
2. Heat exchangers with fixed tube grids and temperature compensator on a casing with a diameter 400, 600 and 800 mm increased thermal efficiency
от 16
до 279
20 х 2
25 х 2
2000-
6000
1; 2
4; 6
Horiz.
vertic.
Steel 3 сп
Steel 16ГС
12Х18Н10Т
09Г2С
10Х17Н13М2
Т
08Х21Н6М2Т
3. Heat exchangers with fixed tube grids, temperature compensator and expander on a casing with a diameter 1000 and 1200 mm increased thermal efficiency
от 190
до 674
20 х 2
25 х 2
3000-
6000
1; 2
4; 6
Horiz.
vertic.
Steel 3 сп
Steel 09Г2С
Steel 16ГС
12Х18Н10Т
10Х17Н13М2
Т
4. Heat exchangers with fixed tube grids and temperature compensator on a casing with a diameter 800, 1000, 1200 and 1400 mm increased thermal efficiency
от 78
до 924
20 х 2
25 х 2
2000-
6000
1; 2
4; 6
Horiz.
vertic.
Steel 3 сп
Steel 16ГС
Steel 10
Steel 20
12Х18Н10Т
10Х17Н13М2
Т
5. Heat exchangers with fixed tube grids and temperature compensator on a casing with a diameter 600, 800, 1000, 1200 and 1400 mm increased thermal efficiency
от 41
до 630
25 х 2
38 х 2
2000-
5000
1; 2
4; 6
Horiz.
vertic.
Titanium ВТ1-0