Filters steel enamelled under pressure
NUTC filters are designed for the filtration of non-explosive liquids of hazard class 1-4 without heating. An open type (in the collection of the filtrate a vacuum is created) and with an enameled lattice.
Nutch filter is a special equipment designed to filter various solutions in closed vessels under conditions of reduced pressure. The walls of the filters are made of special metal, and the filtering surface is made of enameled grating, so that the use of such products makes it possible to easily carry out the filtration procedure of even sufficiently aggressive or non-explosive liquids of classes 1-4.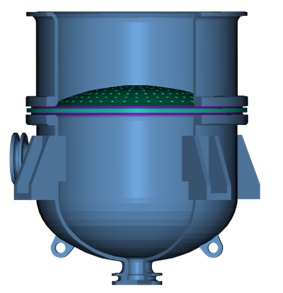 Working pressure, MPa (kgf/cm2):
   • underpressure with a residual pressure of not less than - 0,004 (30).
Technical characteristics of NUTS filters
Symbol
Surface of filtration, m2
Inside diameter nominal, mm2
Overall dimensions, mm
Weight, kg
Specific weight, kg/m2, no more
Productivity, m3/hour, not less than
Working pressure, MPa (mm Hg), not more than
length, L
width, B
heidht, H
Filter НСЕ 0,4-1-12-01
0,4±0,05
700
940
930
1215
500
1250
0,8
Residual pressure 0,004 (30)
Filter НСЕ 0,8-1-12-01
0,8±0,1
100
1280
1250
1650
950
950
0,6
Among the most important advantages that Filter differs from the production of EVROHIMMASH K.O. LTD, it is worth highlighting:
Possibility of filtration in an inert atmosphere;
The absence of any contact of the external environment or the operator directly with the filtering substance, which makes it possible to work in the most sterile conditions, even with toxic or sensitive substances;
Possibility of proper heating or, conversely, cooling of the tank;
Realization of the process even in explosive areas due to the use of various materials by means of which the electric charge is dissipated.